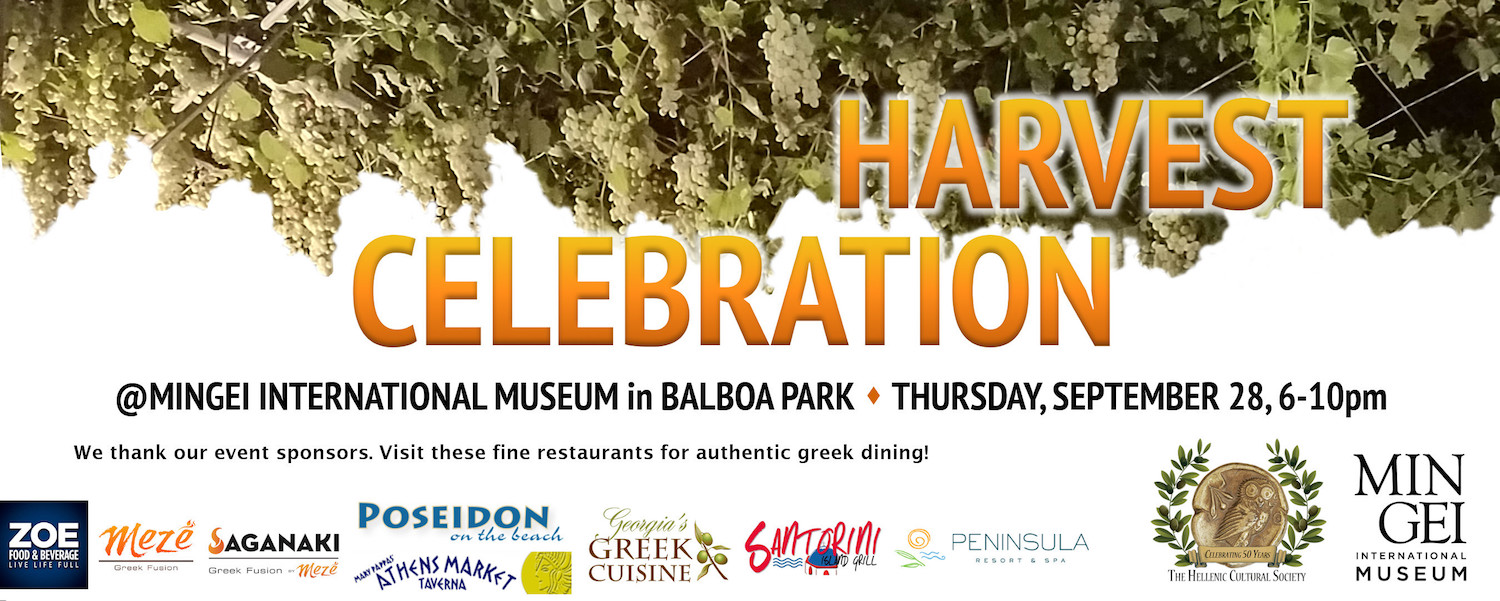 Wine social event at the Mingei International Museum: Mix and mingle among the unique Mingei International Museum exhibitions.

Enjoy a selection of contemporary hellenic wines and craft beer accompanied by gourmet appetizers.

...And take your chances in an opportunity drawing to win a fabulous 10-day, all inclusive stay for 2 at the Peninsula Spa and Resort in Crete, Greece! Additional tasty prizes include gift certificates from our generous sponsors Meze, Poseidon, Athens Market Taverna, Georgias, Santorini, and Saganaki!

Visit Facebook and follow the Hellenic Cultural Society page and the Mingei International Museum page for the latest updates.

This is an event for ages 21+. Ticket price at the door is $30 and includes admission and appetizers. Valid ID and age limit required for admission.

Limited tickets are available. Buy yours now and save 30% off door price with special early bird pricing until August 31!

Members of the Hellenic Cultural Society of San Diego or the Mingei International Museum can enjoy a 50% online discount off door price. Join us at hellenic-culture.org and mingei.org.

Use the box below to specify the desired number of tickets and delivery method, and push the "Add to Cart" button. You will be taken to a different screen to provide your information, and where you can pay by credit card or PayPal (simply click on the "Pay via PayPal" button in the bottom of that screen).




Location
Mingei International Museum
(View)
1439 El Prado
San Diego, CA 92101
United States
Categories
Minimum Age: 21
Kid Friendly: No
Dog Friendly: No
Non-Smoking: Yes!
Wheelchair Accessible: Yes!
Contact